DCM Precision,
your projects
we treat them
with precision

30 years of commitment and precision at DCM
Since 1992, DCM Précision has been providing its expertise to the most demanding industries in terms of design, tooling and production of cut metal parts in small, medium and large series. Through important investments, we support a development policy.

This ambition is reflected in the high level of satisfaction of our customers, with whom we share a relationship of trust and respect. We are always ready to listen to our customers, to give them advice and professionalism, flexibility and reactivity that they are entitled to expect from a quality partner".
Jean-Louis DENOYER, CEO of DCM Précision
An integrated manufacturing facility that meets your exact requirements
The whole company is located in Voray sur L'ognon in Burgundy-Franche-Comté and has a building of 4200m².
We master the whole chain of tooling production:
research and development in our design office,
design and production of tools in our machine shop,
manufacturing and delivery of presentation parts for validation.

Our global solution, precision and know-how
The mastery of the different processes in our workshops guarantees the success of your projects. Thanks to the expertise and qualification of our teams, we are very reactive to all your requests.
A versatile team
DCM Précision is a team of qualified technicians who have only one objective: to answer with precision to the customers' requirements. We manage a fleet of 25 machines. The diversity and the versatility of our machines, added to the expertise of our collaborators, make DCM Précision a reliable partner for companies positioned on markets as diverse as automotive, aeronautics, electronics, armament, jewelry...

We optimize our manufacturing processes to ensure quality mass production. Our specialized technicians attach particular importance to the quality of the products manufactured. Regular frequent controls adapted to the customer's requirements are carried out during production.
The values
of DCM Précision
As a partner of your growth, our daily work axes are proximity, reactivity and respect of commitments.
Versatility
& performance
The complementarity of our activities (tooling, cutting and finishing) consolidates our global expertise and allows us to offer a complete or specific service.
Project management
integrated
The study, planning, respect of deadlines, conformity... Our internal manufacturing process allows us to offer you a personalized follow-up leading to a result that meets your requirements.
Support & commitment
Respect and trust are the driving forces behind all our collaborations. Our technicians are attentive to your expectations to guide you towards an adapted solution.
Research
of excellence
Sans cesse tournés vers l'excellence, nous recevons les certifications AFAQ ISO 9001 et 14001 qui concrétisent nos efforts constants dans la recherche d'une qualité totale tout en tenant compte de l'environnement dans lequel nous évoluons.
Cette démarche rigoureuse s'opère dans notre bureau de contrôle intégré garant des outils du suivi de la qualité.
Our certifications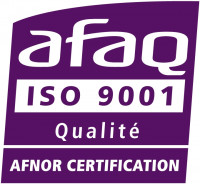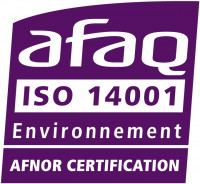 Our inspection equipment
Our different inspection machines allow us to select the most suitable measuring device for your requirements.
Several control phases can be set up.
Prototypes / Start of series / Production follow-up
End of series / Capability

1 Three-dimensional measuring machine

Visual control in production

2 3D measuring camera - OGP

2 MITUTOYO profile projectors

1 Binocular - Vision Engineering